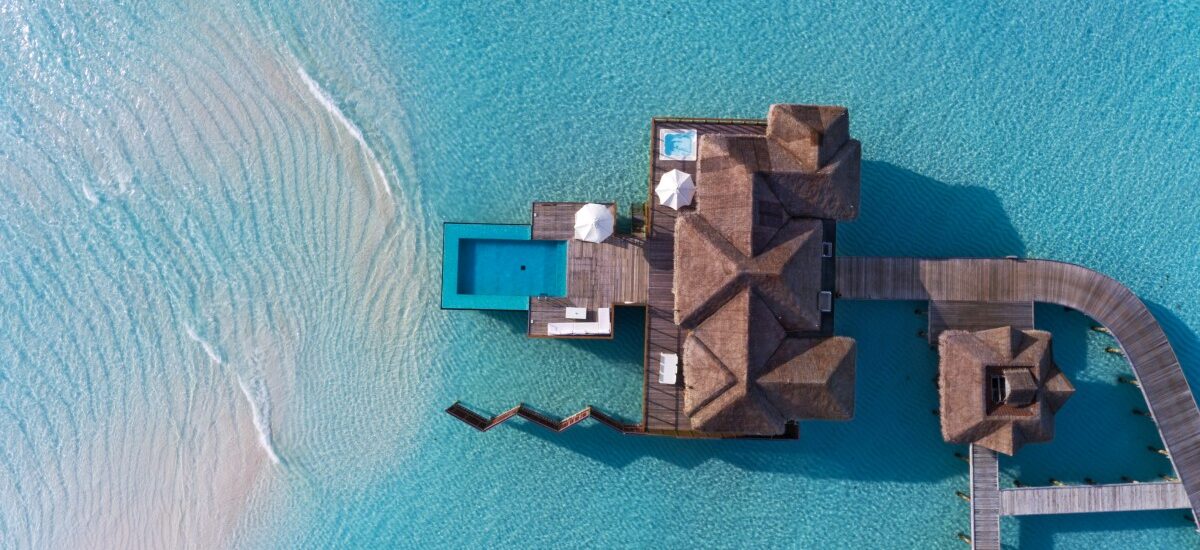 As the world slowly comes out of hibernation, a new era of travel has emerged. Collectively, there's a post-pandemic craving to explore the world again and a yearning for new experiences and new adventures. Travel once again feels exciting and steeped in fantasy. And we're doing it in new, invigorating, thoughtful ways. The old-world days of mindless luxury are gone, and we've adopted a slower rhythm, no longer blasting through holidays in a blur. Perhaps it's by going to fewer places but spending more time in each, with each other, and immersing in local communities. Thankfully, there's a sweep of forward-thinking hotels intent on cradling these new desires but without sacrificing any frills. In fact, they're redefining luxury travel for this new era, flipping the switch and turning travel into a force for good.
Whereas once Egyptian cotton thread count and champagne was the standard for luxury, now we want our hotel to reflect the place we're visiting. Perhaps the bathrobes are made by a nearby indigenous community, or a mini-bar stocked with local snacks or sweet-smelling bath products packed with ancient homegrown ingredients. The best spas in the world have wellness programs with treatments by native healers that feature a reverence for age-old therapies, maybe taught in holistic new-age ways.
Architecture standouts aren't shiny skyscrapers and "world's tallest buildings", but structures that cleverly incorporate the local DNA by merging local materials and craftsmanship. Right now, the most swoon-worthy places to bed down are reassuringly true to place, like off-grid resorts made entirely from bamboo and reclaimed driftwood, Ryokan retreats or Javanese 'Joglo' houses. Hotels which incorporate local building practices into their design-concepts and pay tribute to their artistry in contemporary ways aren't just the most-talked butalso zing with creative energy and escape the ordinary in wonderfully unexpected ways.
This new era of travel has us craving deeper connections. With around 10 per cent of the world working in some form of tourism, we're thinking about the communities whose livelihoods have been put on hiatus for the last two-years – rickshaw drivers in Chang Mai, sherpas in Nepal and roadside souvenir sellers everywhere – and how we can benefit the local cultures we visit now that we can travel again. According to the United Nations, for every $100 spent by a traveller from a developed country, only $5 stays in the local economy.
Going forward, we're turning to local tour operators and guides for their unrivalled immersive access to sites and stories, overlayed with local dialects, food and culture. The future of travel is hyper local. Sensory-jolting experiences that let us see/touch/feel the places we're in. Slurping knee-buckling ramen in a back-alley izakaya, sipping rare mezcals on an agave plantation, getting lost in labyrinthine medinas, trekking the desert with Berber guides… these are the kinds of experiences we're craving in a post-pandemic world. It's the most switched-on tour operators and hoteliers who not only understand this, but are facilitating these beyond imagination experiences by building their boltholes with the 4 Cs mantra – community, culture, commerce, conservation – to protect their various ecosystems, be it environmentally, culturally, economically, or socially. By supporting the arts, history, and extraordinary cultural heritage of far-reaching destinations they're preserving them for future generations.
This is not to say holidays shouldn't also be frivolously lived between the sea, pool and the beach bar, but it's the trailblazing hoteliers who understand that swim-up style cocktails always taste better when they reflect the flavours of the destination – think Pandan mojitos in Bali and coconut arrack cocktails in Sri Lanka – and even better if the ingredients are just-plucked by local farmers, and, and even better still if garnished with repurposed fruit skins as part of a zero-waste program.
It's these kinds of low-impact initiatives steeped in connection and connectivity, that are giving us new takes on ancient techniques and flavours, serving us a new brand of luxury, one that joins the dots of cultures, places and people together for a creative new future, refreshingly rooted in the past.